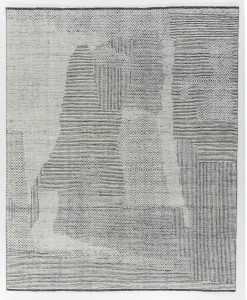 Let's take a look at the increasingly popular high-low, high and low, high-low contrast, high-low monochrome, multiple level, multiple technique; lots of high-low carpets, and all attempt to be totally au courant. Depending on the material used they should be within a budget that would allow most people to include in their interior design.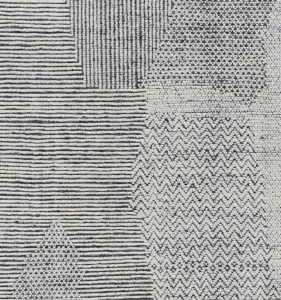 But this carpet is much more than a mere high-low textured piece. Here the look of the front is significantly driven by the look of the back. It really is not a bi-colored rug at all and this is partially, at least, the doing of the back manifesting itself on the front.  On the front we see a combination of various irregularly shaped areas of ivory pile, with at least six varying allover patterns: horizontal lines; vertical lines; plain zigzags; zigzags creating diamonds; small charcoal diamonds; small ivory diamonds.  All created by the charcoal wefting.
The speckling adds a subtle third color to the mix, but you really have to look closely to get the effect. Pile areas are irregularly shaped with no easily defined layout, and there are no borders, although the horizontal lines compress somewhat toward the ends.
In some high-low rugs, the back is of no import, hidden by the pile and other wefts. Here, however, the back plays an essential part. The pile has been hand cut down closely with irregular pile trimming, irregular weft showing to outline the various design elements to give it a more organic feel.