Who Is Lida Lavender?
Lida Lavender is a through-and-through rug person. How could she not be? But it took a while. Born in Tehran, Iran and moved to Israel where she took a chemistry degree at the university. By 1985 she could be found in London where she joined the family oriental carpet business, in premises on Bond Street, central London, the epicenter of the British art and antiques trade. There she did everything except weave the rugs: selling, supervising the restorers, and customer relations. With her outgoing personality, she was naturally the face of the operation to a varied clientele.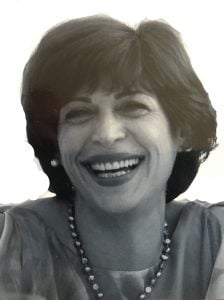 But everyone with aspirations wants to try it alone, so Lida opened her own gallery, the Design Centre, in the early 1990's, along with a partner handling furniture. The Design Centre, with almost 4000 square feet of floorspace, was located in Kentish Town, London. There she worked with some of the best designers: Colefax and Fowler, Vivian Greenock, David Mlinaric, doing almost exclusively residential interiors.
The pull of New York, however, was unavoidable, and a relocation to the city in 2004 set her on her current course. First was 15 East 30th St., then 135 Madison Avenue ,and finally her present location  at 8 East 30th Street. Change of location meant change of emphasis: in London Lida handled Caucasians, Suzanis and other textiles, whereas the NY operation leans heavily on the decorative aspect, with designers making up 70-80% of her total business. The emphasis is still residential, working with some of the top designers both in New York, the rest of the States and European designers. Her rugs have been featured in the Barry Dixon: Inspiration monograph (2011) by Brian Coleman and comparable rugs to those in Malcolm Haslam's definitive Arts and Crafts Carpets book (1991).
Her rugs go everywhere:20% to the NY area and 80% beyond, especially to the south. She can be found at the April and October shows at High Point, North Carolina.
The rugs go everywhere, but where are they found? The family network extends to Belgium, London and Los Angeles. Lida makes a number of trips to secure interesting items   Besides the UK, France, Germany and Belgium, Istanbul is also in the itinerary. She is now also building up her selection of modern and contemporary pieces. Things go both ways and European clients often come here to buy. Her relationships are reciprocal and mutually beneficial.
As has been said all too often, the carpet is the soul of the room. Carpets come first, and furniture and fabrics to follow. The carpet is never an afterthought, never avoided or ignored.
Lida Lavender Oriental Rugs is a personal service business, so it is not too large, and you will always get her attention. Inventory will not overwhelm or confuse you. Lida keeps up to date with trends and applies them in appropriate room settings. Style and quality, what else is there?