Turkish Oushak Rugs

Oushak is a western Turkish town where weavers have been producing striking Oushak Rugs since circa 1400 – 1450 A.D. With such a long history & styles have evolved over and over, and the medallion, star and other Antique Turkish carpet patterns with their saturated tonalities were replaced in the late 19th century by lighter, warmer palettes of unusual colors (pistachio, shrimp, salmon, sky blue, light rust) and designs inspired by, among other sources, Persian allover layouts. The pile is long and lush, the wool soft. Explore our Oushak Rug Collections.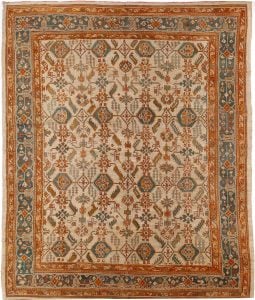 Room Size Antique Oushak Rugs-Beautiful & Individualistic
Room size Antique Turkish Oushak carpets are idiosyncratic, individualistic and even eccentric. The combination of soft colors and strong designs is irresistible. That is why they are so popular today with designers for almost any décor.