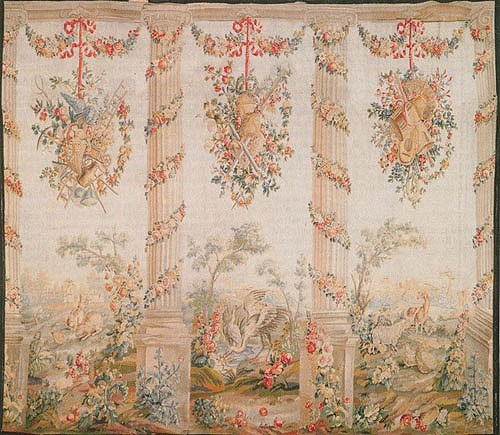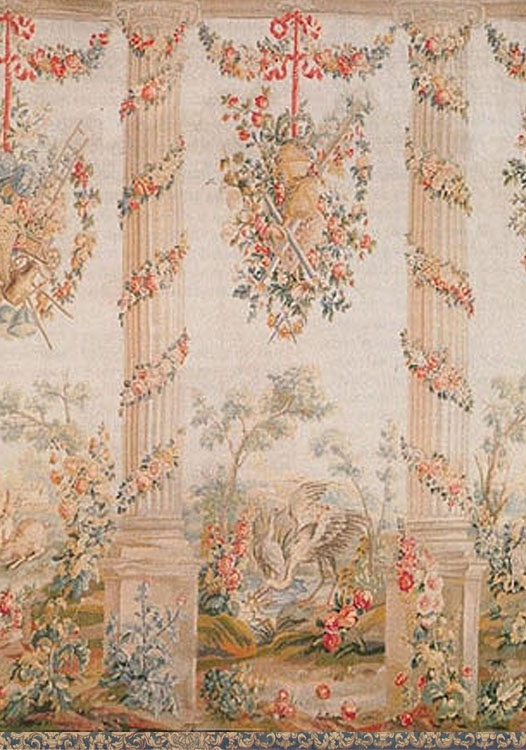 Z0015 - French Aubusson Circa 1780 Tapestry
13ft 06in X 11ft 05in
Tapestry
A pleasing romantic view from the inside of an elegant manor is depicted. It appears to be morning or early afternoon as it is very sunny and the morning dew has not settled for the day ahead. Hares exotic birds and other animals are seen happily playing in the courtyard beyond the ornate columns. Musical instruments and beautiful polychromatic floral garlands decorating the columns and ceiling indicate a level of sophistication and appreciation for the arts.
Vacuum your rug frequently and use a vacuum which uses suction and does not have bristles. If possible, set vacuum to low power setting and vacuum the rug up and down and do not use a back-and-forth motion.
If possible, rotate the rug every few years to allow foot traffic to be spread evenly and shade the rug from direct sunlight to avoid fading in areas.
A rug pad is recommended on all surfaces to prevent slipping and stop marking if on floors with grooves or lines. Professional cleaning is recommended every two or three years.