Spotlight on Special Rugs – 1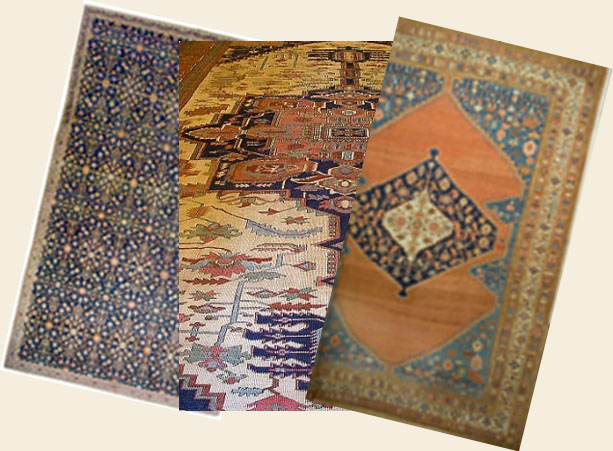 Spotlight on Special Rugs
Heriz Rugs
The usual Heriz rugs are in a 9' x 12' size medallion and corners semi-geometric, rustic creation. These three are, to varying degrees, none of the above.
Rug CU-278 9'4 x 12'5
Consider first this Heriz rug. The border is minimal, the better to allow the repeating allover textile pattern to escape under it and extend to the very edges of the universe. The millefleurs- like pattern, executed in light colors, is cleverly delineated by thin, curving light lines to inscribe a cartouche pattern. But nothing is forced on the viewer. Everything is precise, yet never fussy. How could a Heriz ever be fussy? This must be one of the most unusual antique Persian Heriz carpets around. The pattern, if reduced in scale could be that of a Feraghan or some other semi-urban rug. The rich dark indigo ground is even more unusual.
Indigo dyeing on this scale is not a backyard project, but the work of a supremely accomplished traditional dye master, a rare craft and art skill in any period. Of course, the placement of furniture is a cinch, anything goes anywhere. What a great dining room carpet. Doesn't show spills, no medallion to hide under the table, and wide enough to accommodate chairs.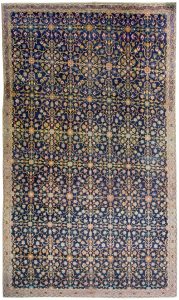 Rug CU-554 16'7 x 21′
We enter another rug world with this Heriz rug circa 1880 open warm madder field rug. The navy lozenge medallion with a small floral pattern, matching mid blue triangular corners and open, undecorated red grounds are characteristic of Bakshaish-type Heriz carpets of the 1880's. This carpet is particularly wide, pretty much at the limit of the village workshops in the district. Big carpets are monumental and this one has a wonderful strength. The border has the traditional reversing "turtle" palmette design, suitably understated to let the expansive red field tie the room together. Red is an advancing color and this red, perfectly dyed from mature madder root, is especially enhancing. It is all too easy  to keep the furniture back so as better to appreciate it. Color is monumental here. And Lida  just LOVES this red.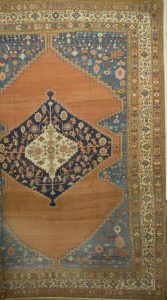 Rug CU-555 12'9 x 24′
This Heriz rug takes the classic eight-point medallion with palmette pendants and magnifies it to a truly gigantic, attention-holding scale. The ivory field is extended visually by the giant finial extensions, making an already striking antique Persian Bakshaish type Heriz from the circa 1900 period even more spectacular. This is a rug that makes any room look bigger. And everybody needs larger rooms. In keeping with the incredibly bold pattern, even the most minor pattern elements have been writ large. The length approaches the maximum for Heriz-area weaving and, like our other two examples, must have been a special order. The state of preservation is exemplary.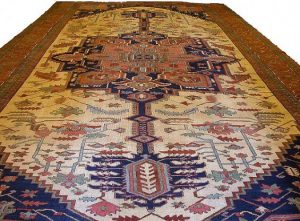 Heriz rugs, especially those of Bakshaish and Serapi qualities, have never gone out of style.  Their graphic vigor and enticing natural color schemes are furnishing enhancing, room enhancing, life enhancing.
Special? Certainly.