ARTS AND CRAFTS STYLE AREA RUGS
The Arts and Crafts movement originated in England in the second half of the 19th century as a reaction against mass-produced machine-made goods. William Morris, the founder of Morris and Co., designed rugs, tapestries, wallpaper, textiles and entire interiors. The large, luxurious antique European carpets produced under his direction are luxurious and stunning in their integration into rugs of European and Oriental styles. Another designer in the Morris circle was C.F. Voisey who worked on rugs and carpets as well as textiles and wallpapers.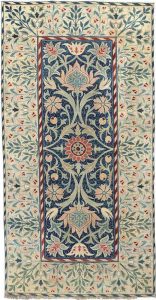 INTRODUCTION OR RUG STYLE TO IRELAND – HISTORY OF ARTS AND CRAFTS RUGS
The style spread to Donegal, Ireland, where Alexander Morton established a workshop around 1900 to weave carpets, often incorporating indigenous Celtic motives. American designers further spread the handmade, hand crafted look as the Mission style, particularly popular in the West. Arts and Crafts Rugs are thick, rustic and usually employ allover patterns. The rich, heavy pile comes from local Irish sheep.