Tapestry Producing Areas and Styles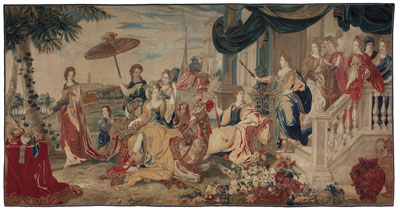 Tapestry Producing Areas & Styles
Antique Tapestry – Most Antique Tapestries that are available nowadays are from France, Holland (known as Flemish), Belgium and England.
Some of the more famous areas are
Aubusson
Situated on the banks of the River Creuse in France, has been well known for producing tapestries from around 1560.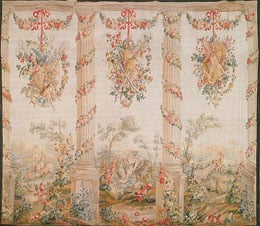 Audenarde/ Oudenaard
A Belgian municipality in the Flemish province of East Flanders. Weaving tapestries from the 15th century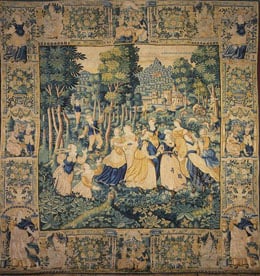 Beauvais
Is a town in northern France that started manufacturing tapestries from around 1600.
Bruges
Based in the Flemish region of Belgium. It is located in the northwest of the country. Weaving tapestries from the late 1400's
Gobelins
Is located in Paris, France and producing tapestries from the early 1600's
Soho
An area in London, England. Weaving tapestries from the early 1600's
Most tapestry designs fall into distinct areas  such as
Historical
Depicting famous scenes from history, the Bayeux tapestry perhaps being the most famous.
Hunting Scenes
In the early 1500's hunting scenes were very popular with the aristocracy. This popularity led to 'verdure' tapestries of lush landscapes, which in turn developed, into romanticized pastoral and hunting scenes.
Mythological
Legends and mythology form the backdrop to cultures, literature and traditions in the world today and have been a popular theme in tapestry design. Mythology may appear as an illustration of the story itself or as a metaphorical projection as part of a painting and message behind a picture. These stories have stood the test of time and retain their appeal today
Of all the mythological legends transposed to the Greek ones are the most prominent and feature in a variety of styles and settings. The legend of Diana the Huntress, the Greek Gods, Army Generals and Kings are the most classic to be found.
Religious
Religious tapestries have been around since the 13th century. It was at this time tapestries were used to illustrate the teachings of the bible to the congregation during days of worship. Religious wall hangings were created from biblical stories & myths. Often reproducing work from some of the greatest painters in history.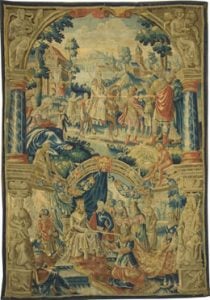 Pastoral/Romantic Scenes
Workers in the field, aristocracy at play, these form the foundation of many colorful and romantic tapestries. Paintings by Teniers have formed the base of many of the most popular scenes and are very sort after.

Verdure (French for greenery)

 
A tapestry is called verdure when its main subject is the green work of nature. Images of trees, leafy foliage, plants, birds, animals, and water are primary, while buildings and people are either minor or completely missing. They also can have a three dimensional aspect that is very popular. One weaving center famous for producing verdure tapestries was the Flemish town of Audenarde in Belgium.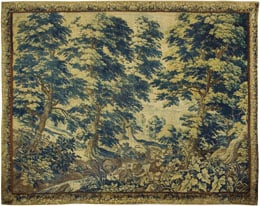 19th/20th Century
There are a range of tapestries woven in the 19th/20th century that have both a contemporary and traditional feel. These include tapestries from the Arts & Craft movement as well as a number from the 1940/50s that normally have the artist/designers signature woven in.
Tapestries are elegant wall hangings that complement home decoration. Tapestries not only help in reducing the effect of angled walls, but also add color and life to a blank space. The most beneficial feature of a tapestry is that it suits all types of houses, from a family home, to a studio apartment, in any style be it classic or contemporary. They introduce a special decorative texture and interest that cannot be acquired with paint or paper alone.
Tapestries are available in a wide range of styles, themes, color palette and sizes. A tapestry in the home brings not just beauty but also a sense of history and culture, European weavers having produced these textiles for centuries, including medieval, renaissance and Arts and Crafts periods.
This Blog was published by Lavender Oriental Carpets