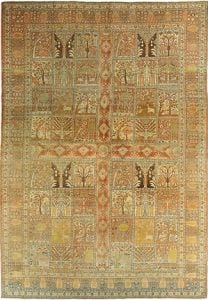 A perfect carpet for the Spring Season
Tabriz Garden Carpet Size: 9'6 x 12'6
Spring comes but once a year and in most of Persia it is indeed fleeting. So why not make it more enduring and bring it inside during the hot and dry summers, and the cold, windy winter? Thus was born the garden (or chahar bagh, lit. four part garden) carpet. The first, as far as literary sources go, was created in the 7th century A.D. for the Persian king Khusrau ( Chosroes), and employed silk, precious metal thread and precious stones to delineate and decorate a flatwoven carpet of enormous size. Sadly, nothing remains of this masterpiece. The trail peters out until the 17th /18th centuries when a number of garden carpets were woven in Kurdistan. These all are divided by watercourses and further sectioned into square panels with local trees, flowers and birds. Birds are an essential part of any Middle Eastern garden.
When carpet weaving revived in the later 19th century, classical, iconic examples inspired modern interpretations. And one of these antique Persian carpets is right here in Lida Lavender's shop. The field is divided by schematic bands which have lost their basic aquatic character. But the panels, neatly and evenly arrayed to form four subsidiary gardens with individual plots displaying oriental flora and fauna, follow the sources quite closely. All the flowers are in bloom, all the trees are in full leaf and the animals romp about friskily. Sit in the center and you are surrounded by an indoor garden, just as the Persian king of old was.
Garden carpets, from 9' x 12' to 12' x 18', were a Tabriz specialty around the turn of the 19th century and although other carpet weaving centers wove what are now antique interpretations of an age-old theme, no place did it better than Tabriz. Don't call it archaizing, don't call it copying, but rather a constant refreshing from a thematic well that never runs dry. The colors are mellow with the ever-classic Tabriz copper red, along with ivory, various browns and greens. And this is one garden which spares one soiled hand and backbreaking labor to enjoy. Just roll it out and welcome spring.